At the grocery shop,
A restoration,
In 4* hotels and more
In 2021, we have created a catering concept adapted to a hotel environment already under an internationally renowned 4-star or higher commercial brand (e.g. Mercure, MGallery, Novotel, Best Western, etc.). 
This concept " At the grocery store " is available in a Foodtime by Aix&terra or Pastatime by Aix&terra. With " Aix&terra Grocery Table " is thus 3 possible levels of a catering concept, adapted to the expectations of business and leisure customers, in franchised middle scale hotels and more.
With "A L'Epicerie"/"Table-Epicerie", discover a catering offer organised around bar and restaurant areas and a grocery shop. 
The individual menu is redesigned each season, depending on the level of concept chosen, from the Provençal 100% to a more regional and multi-artisan partner bistronomy, in sale on site and/or for take-away.
In order to meet the expectations of the hotel industry, we have also developed a Business, Seminar and Conference offer. " At the Grocery Store".
The leaders "A l'Epicerie develop each season's menus in collaboration with the Artisan partners of the Collège Culinaire de France : Aix&terra ManufactureThe House Tourrette.
The recipes are made according to seasonality and, depending on the concept, exclusively or mainly from products without preservatives and colouring agents, from the Aix&terra factory, from Maison Tourrette and/or selected from other producers.
The "A l'Epicerie" and "Table-Epicerie" chefs, trained at theSchool for Chefs three times a year, work as a team with Atypio, Aix&terra, the Tourette House to offer the best of regional, Provencal, Italian "made in France" know-how, depending on the level of the concept.
Partner craftsman
aix&terra manufacture
For many years now, fruit, vegetables and truffles have been sourced by the factory from the best producers in the greater Provence area, and then processed with the strictest respect for the product, without colouring or preservatives!
New recipes are created each season, with more and more organic ingredients, notably grown in Provence: Menton lemon, PDO Provence figs, Cavaillon melon, Drôme organic garlic, Nyons olive slices...
"A l'Epicerie uses some of these recipes to enhance the dishes on its menu. "Table-Grocery uses 100% of these revenues. 
In the two cases, These handcrafted products made in France are on sale in the hotels' boutique areas, with a choice of individual or gift box formats.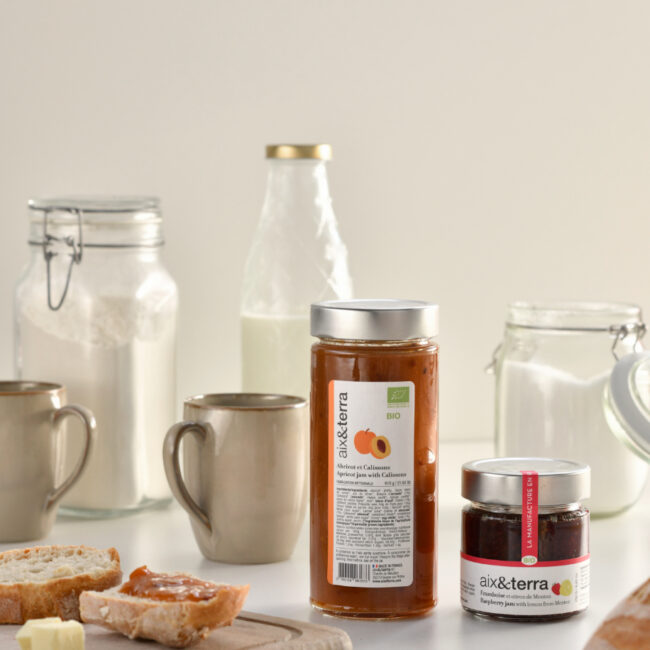 partner craftsman Tourrette House
René Tourrette, Master Cheesemaker, opened his restaurant in the heart of Strasbourg in 1988. As early as 1989, his innovative concept around the Cloche earned him his name and success: his famous cheese Cloche was then recognised as the largest in the world by the Guinness Book of Records. This was the beginning of the history of the Maison Tourette!
The unique technology of this cloche, allows to refine, to mature the products of the soil to 80% French, selected with care by the House Tourrette. 
This bell is almost 2m in diameter and 2m high and is present in 4 of the restaurants At the grocery store Mercure St Germain en laye, Best Western l'Orée Paris Sud, Mercure Chantilly, Mercure Grenoble Alpotel !
Bistronomic cuisine in your hotel
"A L'Epicerie" was created by Atypio Hotels Resorts Hotel operator and co-investor of 3 and 4 star hotels whose leitmotiv is to work in a responsible, respectful, courteous and supportive ecosystem to offer its customers stays #allingoodtime, after meeting people who share the same values and the same taste for good things.
L'Epicerie Foodtime by aix&terra .Pastatime by Aix&terra and the Table-Epicerie are already present in the hotels Mercure Cannes Mandelieu, Mercure Tours Sud, Mercure Chantilly, Mercure Compiègne Sud, Mercure Grenoble Meylan, Mercure Grenoble Alpotel, Best Western L'Orée Paris Sud. 
"Cooking is when things taste like what they are. Edmond Saillant 1930. 
Treat yourself to tasteful cuisine wherever you go!